From Stranger to Neighbor
Ukrainian Refugee Assistance
Gulf Coast JFCS Stands Ready to Assist Ukrainian Refugees
More than a million people have been displaced by the crisis in Ukraine.
Gulf Coast JFCS stands ready to assist the anticipated influx of Ukrainian Refugees to the Tampa Bay region, helping them have access to food, clothing, shelter, and other forms of humanitarian aid.
Make a donation now using this form.
You may also direct your contribution by written correspondence, either email or letter, to GCJFCS Refugee Services, Refugee Assistance Fund.
Sue Farley, VP for Development
727-418-2787 | susan.farley@gcjfcs.org
Make an Impact:
$1,818: Housing, utility, and food insecurity support for 1 month for one household of 4 recent asylum seekers.
$200: Keep the lights on for a family for 1 month.
$100: Supplement groceries for 1 month
$50: Provides school supplies for a child entering school for the very first time.
$18: Help pay for English classes for 1 semester.
These funds will be directed to the most urgent needs of our newcomers, prioritizing those most in need.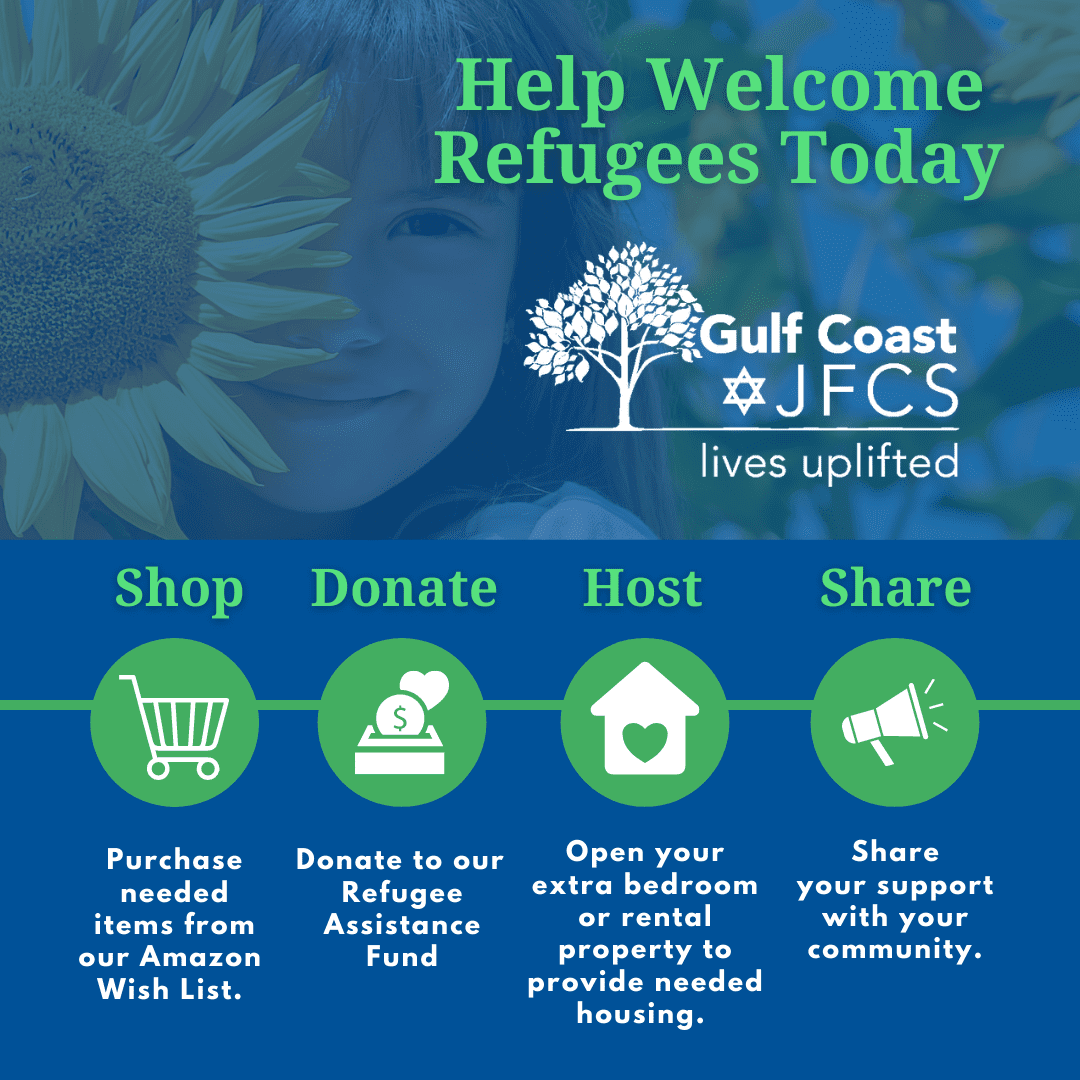 Why Gulf Coast JFCS?
For nearly 40 years, Gulf Coast JFCS has resettled Refugees from countries across the globe, including Ukraine, fleeing war and persecution. Most recently, the organization resettled hundreds of Afghan Refugees to the Tampa Bay region, assisting them with temporary housing, childcare, schools, jobs, and overall cultural integration. These same resources and support will be provided to Ukrainian Refugees designated to Gulf Coast JFCS to assist.
Help Welcome Refugees Today
Gulf Coast JFCS has launched a special Refugee Assistance Fund and an Amazon Wish List to direct philanthropic contributions to help refugees settle and find safety, comfort, and happiness in their new communities. Your contributions will help fill gaps in funding immediate and essential resettling needs for all refugee families as they build their life in the United States.
Donate Now using
the form above.