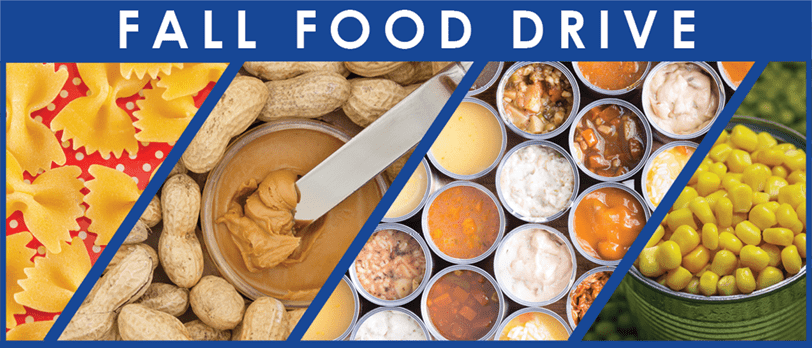 Gulf Coast JFCS Fall Food Drive
September 28-October 31, 2019
Please help Gulf Coast JFCS provide nourishing, non-perishable food to families in need. Your donations directly benefit our clients who are struggling to purchase food for themselves and their families.
Donations may be dropped off at
Gulf Coast JFCS
14041 Icot Boulevard, Clearwater, FL 33760
September 28-October 31, 2019, M-F, 8 am-4 pm
For more information please contact us at 727-479-1805 or marketing@gcjfcs.org
If you prefer to make a monetary donation, please use the form below and indicate "Fall Food Drive" in the notes section.
What we need the most:
canned fruit
canned tuna, salmon, sardines
hearty soups and mixes
peanut butter and jelly
pasta and sauces
rice, vegetarian beans
cereal and powdered milk
sugar-free & low-sodium items
meals in a can (stew, chili, soup)
canned foods with pop-top lids
100% fruit juices in single serving
What we need the most:
individual oatmeal packets
boxed milk and juice
100% fruit rolls
raisins
graham crackers
unsweetened applesauce
cheese and crackers
fruit cups
pretzels
granola bars (without peanuts)
If you'd like to make a donation and send a tribute card, please visit our tribute card page.
Gulf Coast Cares, Inc. is a 501(c)(3) supporting organization of Gulf Coast JFCS. Funds are established to support specific initiatives or where needed most. We are grateful to the individuals, families and corporations that have established funds in Gulf Coast Cares to endow the future of our work.
Children and Families in need with intensive support to ensure stability, safety and well-being,
Elderly and Disabled with support services enabling them to live independently, safely and with dignity, and
Individuals with Behavioral Health Challenges with the tools necessary to function well in society,
Jewish Families with services that connect them to the Jewish community and improve their lives,
Refugees and Victims of Torture with basic services to support them and successfully adapt to life in America,
Unemployed Non‐Custodial Parents with the skills to find jobs, support their families and be better parents.
Respect: Treating people with dignity and compassion;
Relevance: Providing culturally sensitive services to all;
Empowerment: Encouraging and empowering those we serve to achieve independence;
Creativity: Developing creative and innovative services to reflect a changing community;
Honesty: Demonstrating integrity and professionalism;
Collaboration: Partnering with others to broaden our resources.

I want to Volunteer!
Volunteers are the life-blood of Gulf Coast JFCS. We are proud of the ongoing commitment demonstrated by hundreds of volunteers each year.
I want to Donate!
There are many ways you can be a part of making your community better by working with Gulf Coast JFCS.