Which type of donation do you want to make?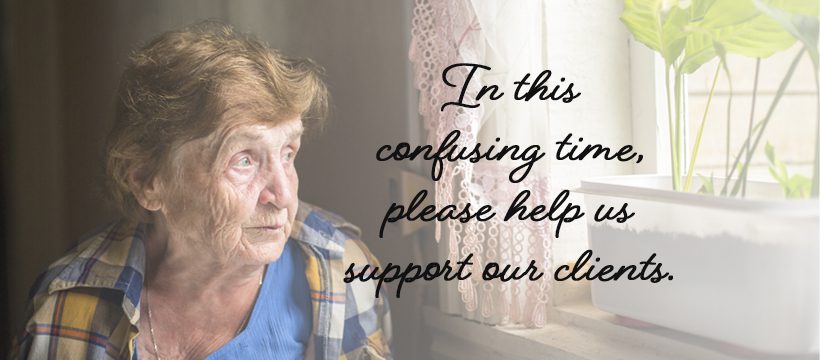 The uncertainty of living through a global pandemic is stressful for all of us. It can be particularly confusing and frightening to the elderly, who may already be isolated and need help with daily living activities. Gulf Coast JFCS is committed to expanding services to our elderly clients during the COVID-19 outbreak.
Can you support our efforts to protect the most vulnerable?
With your help, we will:
Expand our capacity for elder services outreach to ensure our seniors are connected and get the support they need.
Increase our transportation services for the elderly so they can access food, household goods and attend critical appointments.
Increase the supplies in our food pantry so clients in need have non-perishable food and household goods to support their families.
Please donate using the buttons at the top of the page and type "COVID-19 support' in the notes section.
Gulf Coast Cares, Inc. is a 501(c)(3) supporting organization of Gulf Coast JFCS. Funds are established to support specific initiatives or where needed most. We are grateful to the individuals, families and corporations that have established funds in Gulf Coast Cares to endow the future of our work.
Children and Families in need with intensive support to ensure stability, safety and well-being,
Elderly and Disabled with support services enabling them to live independently, safely and with dignity, and
Individuals with Behavioral Health Challenges with the tools necessary to function well in society,
Jewish Families with services that connect them to the Jewish community and improve their lives,
Refugees and Victims of Torture with basic services to support them and successfully adapt to life in America,
Unemployed Non‐Custodial Parents with the skills to find jobs, support their families and be better parents.
Respect: Treating people with dignity and compassion;
Relevance: Providing culturally sensitive services to all;
Empowerment: Encouraging and empowering those we serve to achieve independence;
Creativity: Developing creative and innovative services to reflect a changing community;
Honesty: Demonstrating integrity and professionalism;
Collaboration: Partnering with others to broaden our resources.