Help Us Uplift Lives Today!
From babies to seniors, Gulf Coast JFCS is there to help our community's most vulnerable people. With your help in the months ahead, we'll give "the hand up" needed to give hope, comfort and safety to thousands of Floridians.
Our Vision
Every person, regardless of circumstance, finds hope, has a voice, and lives a productive life.
Which type of donation do you want to make?
Join Us to Make the World Better and Uplift Lives
Now more than ever, we need to uplift one another, especially our community's most vulnerable who are suffering even greater adverse effects from the ongoing pandemic.
Your support today will uplift lives through Gulf Coast JFCS by:
• Finding forever families for some of the hardest to place children
• Expanding safety net support to our seniors providing food, rent subsidies or home care assistance
• Keeping families together and children safe through comprehensive intervention including support for housing, job training and life and parenting skill development
• Giving refugees the dignity and opportunity of achieving self-sufficiency through equipping them with the skills and knowledge for smooth immersion economically and emotionally into our communities
• Offering comfort and care to our community's treasured Holocaust survivors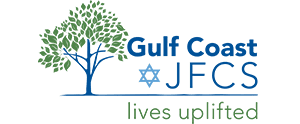 Inspired by Jewish values, we PROTECT the vulnerable, EMPOWER individuals and STRENGTHEN families.