Your Best Life Can Include Uplifting Other Lives!
When you join the Gulf Coast JFCS team, you'll live your best life by helping others uplift theirs.
For nearly 50 years, we've been ensuring stability, safety and well-being for all people regardless of age, gender identity, race or culture. Our business is one of caring, for those we serve and for each other.
Gulf Coast JFCS is an equal opportunity employer.  As such, Gulf Coast JFCS considers applicants without regard to race, color, sex, age, religion, national origin, disability, marital status, pregnancy, gender identity, sexual orientation, or any other characteristic protected by federal, state, or local law.
 If you need assistance or reasonable accommodation in order to participate in the application process due to a disability, please contact our Human Resources Department.
 Our team members best describe the Gulf Coast JFCS team experience:
Mary Torres, MSW, RYT200
"I am so honored to be a part of Gulf Coast and to be able to do the work we are doing. I wake up very grateful and happy each day knowing that I am fortunate enough to be sharing my gifts and talents with the world and to be part of such a wonderful community of like-minded people."
Rena Davis, LHMC
"The families I have worked with during my time with the Family Reunification Team have taught me we all want to be heard and noticed. The way in which we want that is different for each of us. Some are bold and boisterous, others are reserved. If we make the effort to get to know and respect each other's individual style for navigating the world, we will be rewarded with a lifetime of meaningful relationships."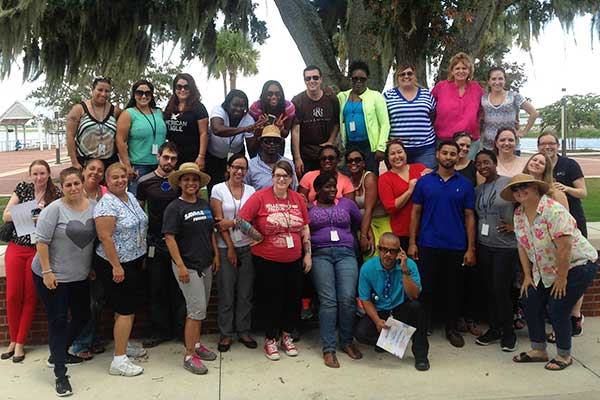 The Gulf Coast JFCS difference includes:
Supportive, professional team environment
Positive supportive culture valuing diversity, equity, and inclusion
Generous benefit plan (Medical/Dental, 403(b) retirement savings, Paid Time Off, and extras such as pet insurance, identity theft, and legal planning
Depending upon position, partial remote work options
Gulf Coast JFCS is committed to ensuring the health, safety, and well-being of its employees and clients, which include members of vulnerable communities. As part of this commitment, COVID-19 vaccines are required for current and newly-hired employees, unless an employee is entitled to a reasonable accommodation or exemption as permitted pursuant to Gulf Coast JFCS's COVID-19 Vaccination Policy.
When you join Gulf Coast JFCS, you'll become a member of a dedicated team of passionate professionals who support and respect one another within a culture valuing home/work-life balance as well as justice, diversity, equity, and inclusion.
With more than 40 programs and 550 employees statewide spanning a spectrum of professions, Gulf Coast JFCS invites you to explore open positions for yourself or to refer to friends and associates.