Who We Are
We PROTECT the vulnerable,
EMPOWER individuals
and STRENGTHEN families.
Gulf Coast Jewish Family and Community Services, Inc. (Gulf Coast JFCS) is a non-sectarian, community-based, Florida not-for-profit that has been serving Floridians since 1960 when the agency began providing counseling and family support services to the Jewish community in Pinellas County. On July 2, 1974, Gulf Coast JFCS was incorporated and began to expand and diversify its array of services offered to the community-at-large through public funding.
Today, Gulf Coast JFCS has over 550 employees providing services across Greater Tampa Bay and beyond. 
Our vast array of programs serves diverse populations of all ages, faiths, cultures, and lifestyles, including individuals with behavioral health challenges with the tools necessary to function well in society; unemployed and under-employed individuals with the skills to find jobs, support their families and be better parents; refugees and survivors of torture with essential services that support them to adapt to life in America successfully; elderly and disabled citizens with support services enabling them to live independently, safely and with dignity; Jewish families with services that connect them to the Jewish community and improve their lives; and children in need with intensive support to ensure stability, safety and well-being. Each individualized service is based on research, evidence-based best practices, and trauma-informed care principles to positively impact the social determinants of health in the communities served.
The agency's mission:
Inspired by Jewish values, we PROTECT the vulnerable, EMPOWER individuals, and STRENGTHEN families.
The Commission has nationally accredited Gulf Coast JFCS on Accreditation of Rehabilitation (CARF) since 1998, a testament to the focus on individualized services and continuous quality improvement now and in the years to come.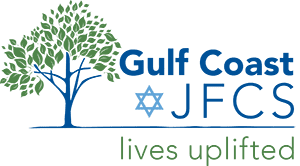 Lives Uplifted for
37,000 

Floridians Annually