Who We Are
Inspired by Jewish values, we PROTECT the vulnerable, EMPOWER individuals and STRENGTHEN families.
Gulf Coast Jewish Family and Community Services, Inc. has been serving Florida since 1960. The Agency is non-religious and its mission is to protect the vulnerable and help people achieve fulfilling lives by empowering individuals and strengthening families. When the agency began in 1960, its core programming was to provide counseling and family support services to the Jewish community in Pinellas County. The agency was incorporated as a 501(c)3 in 1974. At that time, Gulf Coast JFCS began to diversify its array of services though public funding and broadened its scope to serve people of all backgrounds.
Gulf Coast JFCS programs are as diverse as the individuals who benefit from them. Collectively, our services meet the complex needs of today's families, senior citizens, vulnerable children, and persons needing assistance because of behavioral or mental health issues. We seek collaborative partner opportunities wherever feasible, understanding that the community benefits when costs are contained and services leveraged.
Today, Gulf Coast JFCS has nearly 550 employees and annually supports more than 37,000 people in 40 Florida counties. The agency interacts with virtually every area of social services to provide a wide range of family support.
Since 1998, Gulf Coast JFCS has been accredited by the Commission on Accreditation of Rehabilitation Facilities (CARF). Founded in 1966, CARF is an independent, nonprofit accreditor of health and human services programs and agencies.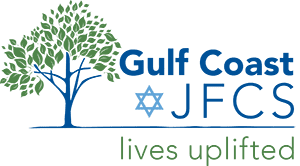 Lives Uplifted for
37,000 

Floridians Annually