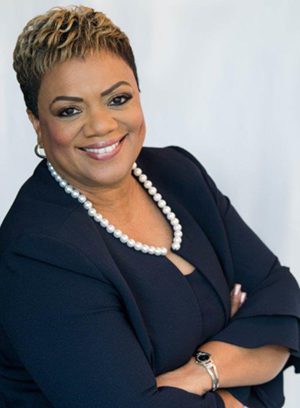 Dr. Sandra Braham
President/CEO
Dr. Sandra Braham was appointed President and Chief Executive Officer of Gulf Coast Jewish Family and Community Services in March 2016. At $50 million with more than 550 full time staff, Gulf Coast JFCS is one of the largest JFS agencies in the United States. Dr. Braham has brought stable leadership, vision and skills in organizational development that are redefining the agency's role as a regional leader in providing wraparound human services. She has broad experience in solutions-oriented strategic planning, technology utilization and integration, diversity, and staff and community engagement.
Dr. Braham brings more than 20 years of leadership experience in the not-for-profit sector. Before coming to Gulf Coast JFCS, she spent 25 years in El Paso, Texas where she served for 10 years as CEO of the YWCA El Paso del Norte Region and led 450 employees, managed an annual budget of more than $30 million and supported a $9 million foundation. While at the YWCA, she lowered the agency's crippling deficits by more than 70%, while raising salaries and making significant investments and improvements in its operations and IT infrastructure.
Dr. Braham also served as Associate Vice Provost for Undergraduate Studies and Assistant Vice President for Outreach Programs at the University of Texas at El Paso (UTEP) from 1992 to 2006. At UTEP, she secured more than $20 million in federal grants and developed programs to support low-income youths' access, enrollment and success in higher education. She also spent eight years as an adjunct faculty member in the University's College of Education where she mentored master and doctoral-level students through courses including qualitative research methodology, organizational change and development, and educational leadership in a diverse society.
Dr. Braham received her Bachelor of Arts in Biology from the University of Missouri at Columbia and her Masters and Doctorate Degrees in Educational Leadership and Administration from UTEP. She is a graduate of Leadership Texas, Leadership America and The Harvard Business School's Strategic Perspectives in Nonprofit Management executive education program. Dr. Braham also completed Jewish leadership studies with the Federation of Florida's Gulf Coast which culminated in a 10-day trip to Israel. Among her civic activities are membership in the St. Petersburg Area Chamber of Commerce where she is the current Board Chair and its first African American woman to hold this post. She is a Board member of the Tampa Bay Chamber of Commerce. Professionally, she serves as co-chair for the Network of Jewish Human Service Agencies (NJHSA) Diversity, Equity and Inclusion Affinity Group and she mentors other Leaders of Color in the non-profit sector.
 Dr. Braham was named "2018 Business Woman of the Year" by the Tampa Bay Business Journal. In January of 2019 she was honored by Academy Prep Center of St. Petersburg as one of its "Five Fabulous Females" and The Tampa Bay Chamber of Commerce named her their "2019 Dottie Berger Mackinnon Woman of Influence." She lends her support to the community through up-and-coming young professionals, and by sharing her expertise through presentations to professional associations and community groups.
Dr. Braham's memoir, "An Angel for Detroit," was published in November 2022.