National Partnership for Community Training
Tools & Resources
Providing a list of tools to utilize in all areas of education, training, reference, resource, and work with refugees.
Take 15 Tool
The "
Take 15" Tool
is a refugee-specific, client engagement tool that provides a breakdown of a fifteen-minute encounter. This tool uses a quick, yet thoughtful approach for physicians, mental health providers, and/or case managers working with refugees on a limited work schedule. By breaking down a 15-minute appointment or informal interaction with a refugee client, it can bring clarity and awareness to the unique relationship between providers and clients/patients. Consider using this tool if you only have 15 minutes with a client *or* as an introductory piece to a longer conversation.
Share with your local screening clinic and any provider new to working with refugees!
Landscape Analysis
This Landscape Analysis tool may be utilized by your resettlement office and your community as you develop refugee mental health programming. By completing these questions, you can locate existing resources in your community related to the emotional health and well-being of refugees. We recommend completing this in a community stakeholder meeting and/or in a participatory process with community members.  Responses to these questions can be a powerful tool to bring people together to share resources and determine avenues where people can begin to support (or share) the development of psychosocial services benefiting refugees. This Landscape Analysis tool was developed by the Pathways to Wellness project in partnership with the International Rescue Committee.
–Pathways to Wellness and International Rescue Committee
EcoMap
The 
EcoMap
 is a version of a tool within the field of social work called a "Genogram." These tools are readily used to aid in identifying program relationships to external systems.  While eco-maps and genograms are commonly used with individual and family work, this graphic has been adapted to aid your agency in building a landscape analysis by visualizing the connections your program has and can develop to local and national partners.
Suggestions for use: At your next staff meeting, provide this eco-map to staff. Ask staff to draw the type of relationship (see key on eco-map) they believe your agency has with each circle. Ask staff to answer questions and identify the themes that arise. NOTE: one circle is blank for your edit. Make this your own.
Ahmed Refugee Family Visual Tool
See our newest learning tool and the reasoning behind utilizing a family as a visual representative of a refugee family, The Ahmed Family.
Substance Abuse and Mental Health Services Administration (SAMHSA) Regional Administrators Map
This 
SAMHSA Map
 provides a visual aide for each SAMHSA region within the United States and a description of the roles SAMHSA's regional administrators play.
Mental Health Screening Tools
The National Child Traumatic Stress Network produced a list of various tools utilized with various refugee groups.
Community Training Toolkit
Training Curriculum & Bibliography
The National Child Traumatic Stress Network produced a list of various tools utilized with various refugee groups. Furthermore, this serves as an extensive bibliography for further reading on refugee mental health practice.
National Symposium PowerPoint Presentations & Resources
The National Partnership for Community Training hosts a national symposium every three years to bring together national torture treatment experts, leaders, policy analysts, and social service providers to address national and regional issues within the torture and refugee trauma field. In April, 2015, NPCT in collaboration with the University of Miami School of Law's Human Rights Clinic presented Connecting Leaders, Impacting Communities & Sustaining Programs: Strengthening the National Torture Treatment Network to 149 participants in 30 states with key note address by Mawi Asgedom and Daniel Trust.
Videos
Stories of Hope from Bhutanese Refugees: Moving from Distress to Wellness

Torture Survivors — Five-Part Video Series
There are many different ways in which programs deliver quality services to torture survivors.  Watch members of the National Partnership for Community Training discuss their work with survivors of torture at the Harvard Program in Refugee Trauma, the NYU/Bellevue Program for Survivors of Torture, and the Florida Center for Survivors of Torture.
This five-part series includes leaders in the field discussing the lessons learned and the models of care at some of the leading torture rehabilitation centers in the country.
Click on the links below:
Part 1: Who are torture survivors?
Part 2: What challenges do torture survivors face?
Part 3: Advice from practitioners?
Part 4: What is the trauma story?

Part 5: What can you do?
Refugee Trauma Treatment: A Literature Review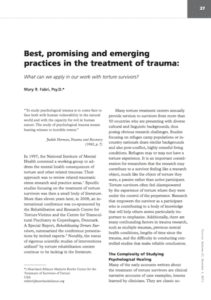 NPCT is involved in advancing the torture rehabilitation field by promoting the best and promising practices. Working with other experts, NPCT has completed an extensive literature review of the trauma field which was published in Spring 2011.
The Florida Center for Survivors of Torture's national technical assistance program, the National Partnership for Community Training, wrote and edited a 7-chapter paper on Best, Promising, and Emerging Practices in the torture and refugee trauma treatment field.  The work,  "Best, Promising, and Emerging Practices: A Compendium for providers working with survivors of torture" was published as a thematic issue of the Torture journal.
Each chapter focuses on a particular domain of services – Medical, Psychiatric, Psychological, Expressive Arts, Social Services, Legal and Spiritual – to help both clinical and mainstream refugee service agencies provide services that have been identified as effective based on research.
Our goal with this project is to help advance the field of torture treatment and refugee trauma.
The 7-chapter article is available online here, or it can be ordered in hard copy format as well.
Group Treatment for Survivors of Torture and Severe Violence: A Literature Review
In conjunction with Heartland Alliance International and the National Capacity Building Project, NPCT published 
a systematic review
 of scholarly journals and manuscripts focused on group treatment with torture survivors.
Suggested Readings, Films, and Articles