Alternative Family Program
Alternative Family Program is based on the therapeutic foster home concept of trained sponsors who open their homes to up to five adults or seniors with mental illness and welcome them into their families. With 190 beds in 75 licensed care homes covering a 36-county area, sponsors provide 24-hour client supervision, care and support in exchange for a monthly stipend.
Contact Information
Alachua / Volusia County
901 NW 8th Ave., C-8
Gainesville, FL 32601
P: 352.262.8551
F: 352.727.4580
Lee County
8695 College Park Way, Suite 2034
Fort Myers, FL 33919
P: 239.450.3612
Pasco County
11031 US Hwy 19 N, Suite 100
Port Richey, FL 34668
P: 727.330.4879
F: 727-378-4802
Sarasota County
2250 Gulf Gate Drive, Suite H2
Sarasota, FL 34231
P: 941.780.5933
Broward County
5400 S. University Dr., Suite 507
Davie, FL 33328
P: 954.252.6413
F: 954.680.4110
Polk County
3939 US 98 South, Suite 104
Lakeland, FL 33812
P: 863.614.9156
F: 863.665.8269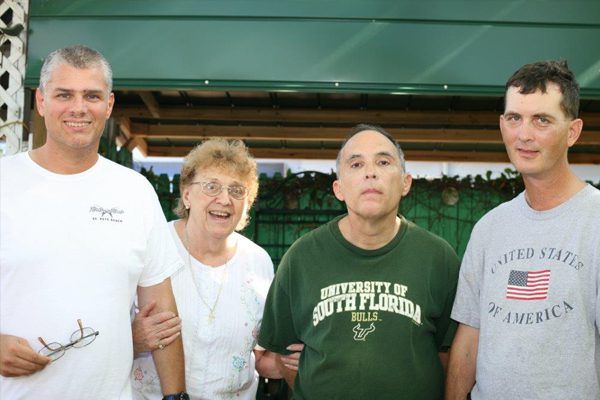 A welcoming home for those with mental illness
AFP was bestowed recognition by the American Psychiatric Association for significant achievement with seriously and persistently mentally ill adults, stating that the program was "an outstanding and important model for community mental health."
"I am very satisfied with the services I have received here. I am very relaxed and content. We are treated like family."
"I got to practice the skills that I have learned in the Step Program. I have learned steps to be more independent. I have learned to respect my caregiver and self. "
"I moved in on November 2, 2006 into the best home that I have had in years. At Keith's I have my own private room with a fish tank, something I have always wanted. I feel so lucky that I found this place."
Funding Provided by the Following
I want to Volunteer!
Volunteers are the life-blood of Gulf Coast JFCS. We are proud of the ongoing commitment demonstrated by hundreds of volunteers each year.
I want to Donate!
There are many ways you can be a part of making your community better by working with Gulf Coast JFCS.